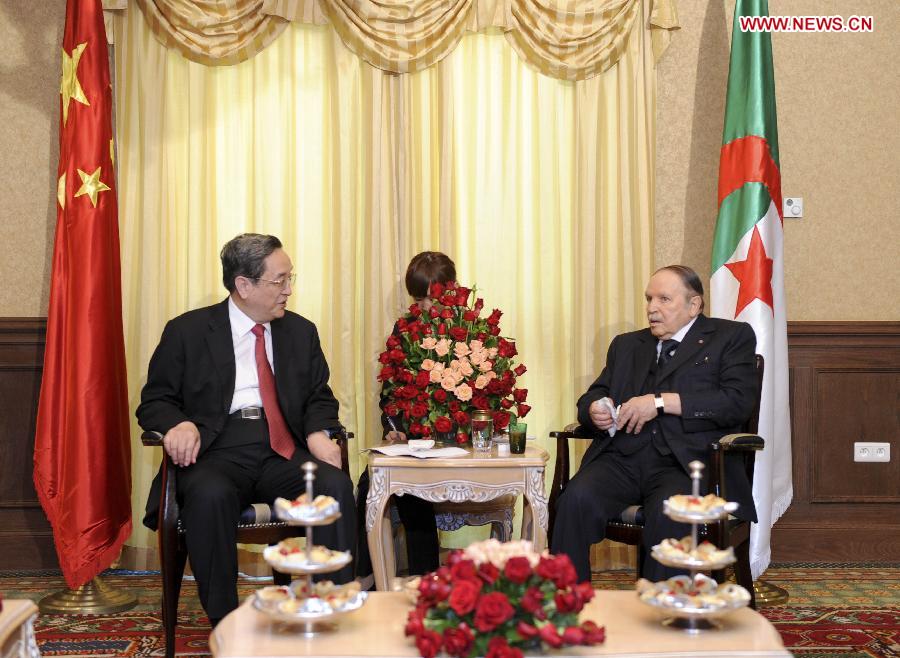 Yu Zhengsheng (L), chairman of the National Committee of the Chinese People's Political Consultative Conference, meets with Algerian President Abdelaziz Bouteflika in Algiers, Algeria, Nov. 2, 2014. (Xinhua/Zhang Duo)
Yu Zhengsheng (3rd L), chairman of the National Committee of the Chinese People's Political Consultative Conference, meets with Algerian President Abdelaziz Bouteflika (3rd R) in Algiers, Algeria, Nov. 2, 2014. (Xinhua/Zhang Duo)
ALGIERS, Nov. 3 (Xinhua) -- China is willing to work with Algeria to enrich the connotations of their comprehensive strategic partnership, visiting Chinese top political advisor Yu Zhengsheng has said.
Yu, chairman of the National Committee of Chinese People's Political Consultative Conference (CPPCC), said he was glad to visit Algeria on the occasion of the country's 60th National Day.
The visit, which kicked off the maiden trip by China's new leadership to North Africa and West Asia, has manifested the great importance China has attached to developing relations with Algeria.
Arriving in Algiers on Saturday, Yu said the China-Algeria ties have enjoyed rapid development in recent years with frequent high-level exchanges and enhanced political mutual trust.
Considering Algeria a good brother, friend and partner, China has set great store by the friendly and cooperative relations with the North African country, Yu said.
Chinese President Xi Jinping and Algerian President Abdelaziz Bouteflika ushered in a new historical stage of bilateral ties by commonly announcing in February the establishment of the comprehensive strategic partnership between the two countries, Yu said.
China was ready to join hands with Algeria to enhance exchanges at all levels, cement political mutual trust and promote pragmatic cooperation to foster the China-Algeria relationship a bellwether of country-to-country ties to lead and boost the development of China's relations with all African and Arab countries, Yu added.
During his visit from Saturday to Monday, Yu met with Algerian President Bouteflika, Prime Minister Abdelmalek Sellal, Mohamed Al-Arabi Ould Khalifa, speaker of Algerian National People's Assembly, and Foreign Minister Ramtane Lamamra. He also held a meeting with Abdelkader Bensalah, chairman of the Council of Nation of Algeria.
During his talks with Algerian leaders, Yu also briefed them about China's political, economic and social situation, and the role CPPCC played in Chinese politics, stressing that CPPCC was ready to enhance exchange and cooperation with Algerian parliament at various levels.
For their parts, Algerian leaders said they appreciated the long-term support and help China has offered to their country, pledging that Algeria will work with China to enrich bilateral comprehensive strategic partnership in such areas as politics, economy, culture and education.
They also vowed to deepen friendly exchanges between the parliaments of the two countries, closely coordinate and cooperate with China on international and regional affairs and promote the sustainable, rapid and all-round development of bilateral ties.
Algeria is the first leg of Yu's four-nation tour in North Africa and Middle East, which will also take him to Morocco, Bahrain and Jordan.